9FT NOMAD Roller Polespear Bundle - Spectra
$537.50
$612.50
saving
$75.00
| /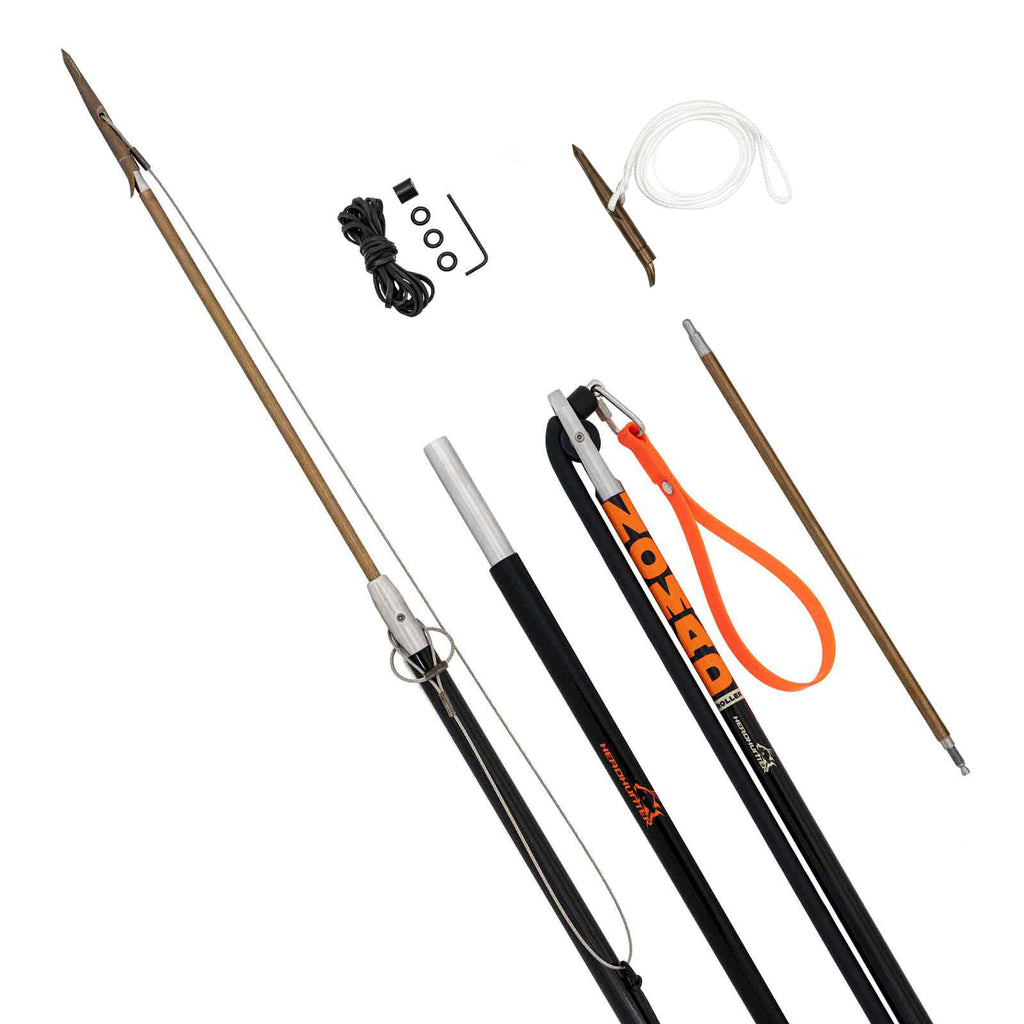 9FT NOMAD Roller Polespear Bundle - Spectra
$537.50
$612.50
saving
$75.00
| /
Complete NOMAD Roller 9FT Polespear rigged with cable, and included replacement components. This NOMAD Roller Bundle includes:

NOMAD Roller 9FT Polespear(this complete spear is rigged with cable)
WARHEAD Spectra Slip Tip Replacement
18" WARHEAD Injector Rod Replacement
Retainer Band Replacement Kit 
Whether you're gearing up for a spearfishing trip or upgrading your gear, the NOMAD Roller 9FT Polespear Bundle is the best option to be fully prepared for spearfishing. Keeping replacement components on hand can save you in situations where replacement gear may be hard to access, or your gear is damaged from fighting a large fish. Injector rods are designed to bend before your polespear would in a battle with a very large fish, so this is the component most likely to need eventual replacement. It's hard to lose a slip tip, but having a spare can help you re-rig your polespear and be back in the water quickly for additional shots without having to dig your tip out of your previous catch. 
The NOMAD Roller Polespear is built to deliver high impact holding shots. The WARHEAD Slip Tip system in this bundle is rigged with 1000 lb spectra, a more manageable option than cable. Spectra also provides the advantage when shooting soft-bodied fish like wahoo, as it doesn't saw through the fish body as easily as cable can. 
Learn more about hunting large fish with the NOMAD Roller Polespear.  
 The NOMAD Roller bundle includes a complete 9ft Nomad Roller Polespear rigged with spectra, and spare components. 
Complete 9FT NOMAD Roller with cable, plus:
1 x replacement WARHEAD Injector Rod
1 x replacement WARHEAD Spectra Slip Tip
1 x replacement Retainer Band Kit